On this page, I'll describe some of the events leading up to the baby's birth. I plan to describe how Holly and Josh first found out they were pregnant and how they celebrated. On this page, I will include a scanned picture from an ultrasound, pictures from the baby shower, and pictures of the nursery once it is finished.
THE BIG NEWS!
I asked Holly, "When did you get pregnant or find out? How did you find out?
Holly said, "I got pregnant on our vacation in March. Although I was not suppose to take the home test until a few days after a missed period, I took it before I was ever suppose to start because I knew it. I was at home alone one night at the beginning of April because Josh was working late, and I decided to take it. When he got home I showed him the stick and he just looked at it for a while, then said "What is this??"... so I told him that we were gonna have a baby and we hugged and kissed."
I asked Holly, "How did you celebrate?"
Holly said, "We went to nanny's and daddy's to tell them and momma came to nanny's. We called you, Kacy, and Mrs. Wanda and Mr. Ricky too."
The Baby's Ultrasounds
Below is the baby's very first picture... the ultrasound. Holly said people have called the baby a peanut and a butter bean. Watch out those names could stick and I don't know if the baby would like having those for nicknames!
Holly said, "At the 2 month appointment the baby's heart beat was 145 and the baby was 1.25 cm or half an inch."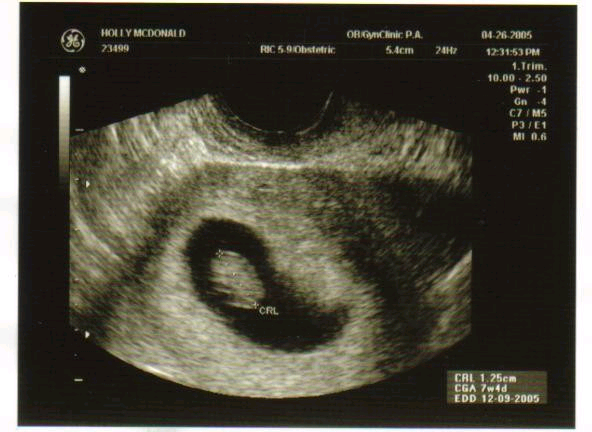 Below is an ultrasound picture of the baby at 3 months. What a difference in the size of the baby.
Holly said, "At the last appointment, at 3 months, the baby was 4 cm and the doctor said it was moving around alot. The doctor seemed surprised that it was moving so much."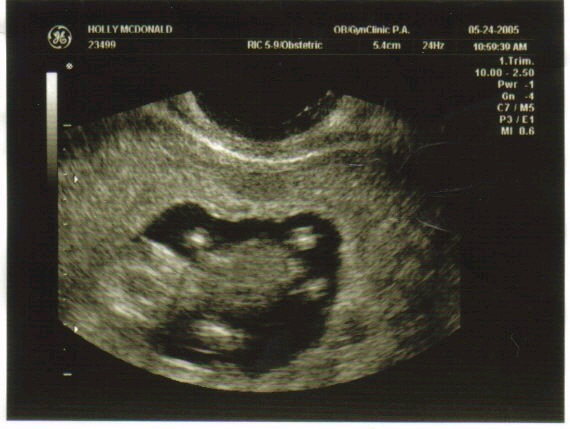 Holly goes to the doctor again in a week and will have up dated info, possibly the sex of the baby!! How exciting! I can't wait to find out what it will be.
Below is a picture of the baby at 4 months. He/She is getting bigger and bigger! I can't wait to meet him or her.
Holly said, "This is the baby's 4 month pictures. All you can see is the head and belly. The baby has it's elbows bent in front of it's head (that's not it's nose..thank God!) and it's hands bent by the head. It's heart rate was in the 150's and it is about 4 inches long. The baby had it's legs crossed so we couldn't see what it is yet! I tried spanking it, but it didn't move or open those legs!! We did get to see it sucking it's thumb, and it stuck it's hand up and i could count all 5 fingers on it! We saw toes too!!"
Here are a couple of pictures of the baby at 4 months and 1 week. The doctor says IT'S A GIRL!!! Holly and Josh are going with Ava Grace for the baby's name.
Holly said, "The doctor in Jackson said that the baby's heart rate was 148 and she was 7 inches and about 7 onces. A special little thing that happened was she stuck her tongue out 2 or 3 times in a row right after the doctor said"Lok her mouth is opened!" We all laughed! I thought it was the cutest thing I ever saw!
Holly says, "Here is that precious ava grace!! I felt her move 3 times in a row the other night at midnight, so apparently she is up and at it at night!!"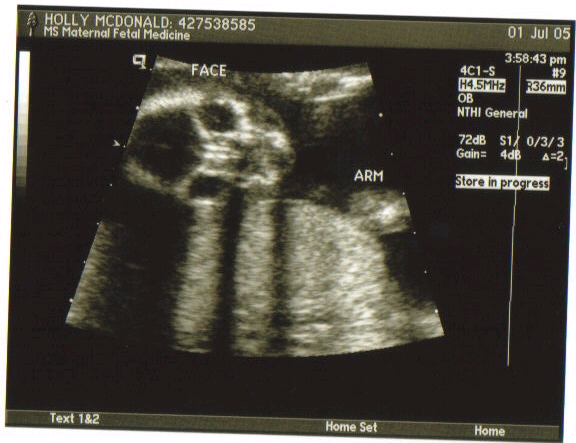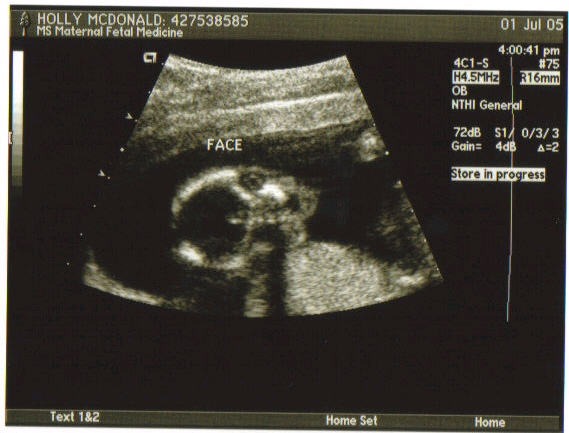 IT'S A GIRL!!!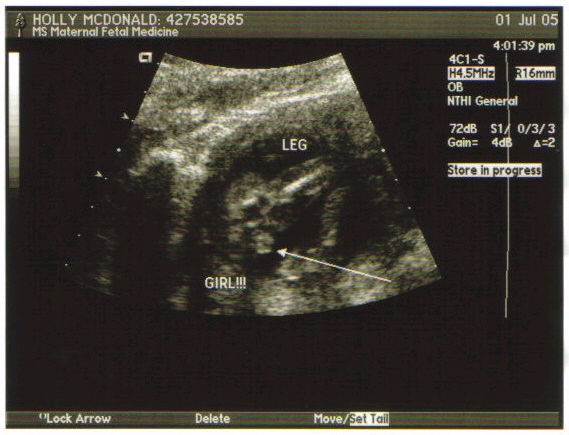 The Baby Shower
Here I might describe and include some pictures from the baby shower.
The Baby's Room
Holly says she has thought alot about what she will do the nursery in. She said she's not really sure at this point. She plans to go look at baby stores in jackson and get some ideas. Holly says she has absolutely no idea for a boy, but that she thought that pink flamingos would be cute for a girl. She is also considering an icy teal color for a girl.
Holly has found a bedding set at Babydepot.com that she thinks she wants to do the baby's bed in. Go to the following link to see the set.